Porn Browsing and You: Your Guide to Not Getting Caught, and Not Catching Anything Yourself.
Updated April 1 2009
I have been asked to write up some handy hints for the viewing of naughty things on the internet. Here are my hints.
No Internet Explorer Ever Under Any Circumstances
The thing is, Internet Explorer is precisely the least secure tool available for someone to use to access the internet. Porn surfing, like gambling sites and pirated software, is essentially the most dangerous activity one can undertake on the web.
Those are not two great tastes that taste great together.
Hitting a porn site in IE can initiate something called a Drive By Download, which essentially means that, without your knowledge, a program can be installed on your PC. Even with all the security updates in the world, IE has traditionally had so many problems with bad security that it just cannot be trusted.
IE version 7 and 8 are very slightly better in this regard than any older version. Windows Vista is very slightly better than XP. PCs with "premium" security packages from Norton or Mcafee or even security software vendors that are actually good; none of these things make a difference in my recommendation. Just don't click the Blue E. For the bad guys, browsing with IE does half their work for them. It's like using a condom with a hole in it. And if you're browsing porn sites, it's more like using a condom with a hole in it on a hooker with visible genital warts and a re-used herione needle in her arm. Get the picture?
If you're going to download porn, get a better browser for doing it.
Firefox
Opera
Both are VASTLY better choices. In this document I will focus on using Firefox, but both Firefox and Opera have good support for content blocking, which is very important for security's sake, as ads are one of the major vectors for malware spread from the internet.
AOL's browser, MSN's Browser some third party modifications to Internet Explorer like Maxathon are all still Internet Explorer, and are just as tainted as the original. Let me say that again: AOL, MSN, and in all likelihood, any Service Provider Branded Browser are going to be based on IE and should not be used.
Browsing Privately
Another way in which Internet Explorer is sort of bad for the task of porn browsing is that it stores information in the Windows User Profile. If several people use the same Windows Login and password (very common on home PCs), they can all see what each of them has been doing on the internet.
Most people would prefer to
not
share their porn browsing perferences with family members, co-workers or anyone else for that matter.
Even more importantly, porn browsing isn't something parents want to expose their children to.
There are dofferemt ways and levels of privacy protection that can be implemented.
One of the easiest possible tools to use in keeping your dirty, dirty habits away from the prying eyes of others is to create a different and most likely password protected user account, and to contain yourself to porn browsing just on that account.
Note that I am really not suggesting any steps to encrypt or otherwise obfuscate the contents of a User Account, and that creating a different account for porn browsing on a work computer is still a really, really bad idea.
The steps for creating a user account as slightly different depending on your operating system.
Windows XP
Windows Vista
OS X
For the most part my advice is geared to Windows Users, but private browsing is a pretty universal issue.
In creating a new user account, it is best to specify an account with lower permissions than Administrator-level. Most operating systems offer accounts that are somehow limited and cannot install software. Using this type of account while doing potentially dangerous things on the internet is probably a really good idea.
I suppose I should also give the standard advice about passwords: You should have one. It should include letters, numbers and shifted characters, and it should be longer than five or six characters. The hint I usually give to people is to take the stupid, obvious word they were going to use and shift it up one row on the keyboard when they type it in. Modern versions of Windows allow for 63-character passwords. You can use a whole
sentence
if you prefer.
Anyway, your new user account will have a new set of browser profile information including Bookmarks, Cookies and History information. As long as no one knows your password and you don't get a Malware infection, feel free to porn like the wind!
But, OK, a new user account might not be a good fit for everyone. I've certainly dealt with my share of home users who resent having to type a password to log on to their home computers.
Both Firefox and Opera have mechanisms for creating multiple user profiles that can be associated with a single user account. You can set up a special shortcut for your "adults only" browsing.
Firefox (Windows)
1. Exit out of Firefox. Make sure there are no Firefox Windows open AT ALL (you might want to check Task Manager as well)
2. Click on Start, then either Run, or the Start Search area, and type exactly this (or paste it in)
firefox.exe -ProfileManager


3. Click the Create Profile button, then the Next button. Give your profile a name you can remember. Click Next.
It is possible that this name might show up, if someone manages to invoke the Profile Manager, so maybe naming it PORN might not be the best idea ever. Nonetheless, that's what I'm going to use.
4. You can, if you so choose, put the profile someplace besides its default location. This is probably not necessary. Click Finish.
5. Now, when Firefox starts, it will ask which Profile to use. Ideally, we don't want to see this prompt. It's not normal and will frighten and confuse people. Make sure the default profile is highlighted and "Don't ask at startup" is ticked. Check to make sure everything starts up the way it always has, then close Firefox again.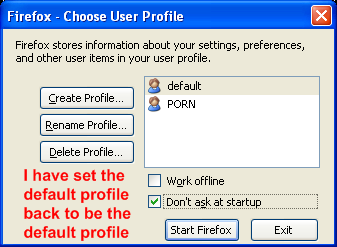 6. Instead, what we WANT to do is create a shortcut that goes to our new Profile. Find a Firefox Shortcut. There's probably one on your Desktop, and if it isn't there, there's one in your Start Menu someplace. Right click on that Shortcut. From the context menu, choose Copy.
Now find someplace people don't normally look at on your computer. I don't know what to tell you about that. Maybe make a Folder under My Documents and call it something boring like "2006 Staff Meeting" that no one will ever look at.
Right Click inside your Safe Folder. From the Context Menu choose Paste.
Now right click on the Firefox Shortcut you've made. This time choose Properties.
On the line that's labeled Target: you need to make a small addition. It needs to be typed exactly as I have it.
After the final quotation mark, type this:
-p "NewProfileName"
That's hyphen p space quote (whatever you named your new profile) quote.
The profile name is CASE SENSITIVE, so Porn is different from porn is different from PORN.
If you don't do it right, you just bring up the profile manager, which is not the end of the world, but this isn't that hard to get right.
Now you have a private, blank Firefox Profile you can use.
Firefox (OS X)
OS X uses a process that's very similar to the above, except that the easiest way to start the profile manager is to completely shut down Firefox, open a Terminal window and type:
/Applications/Firefox.app/Contents/MacOS/firefox -profilemanager


For the most part the other steps are unchanged.
Opera (Windows)

Here's an Opera User's guide to making a second profile in Opera.
Again, Opera isn't my favorite browser, but many of the tricks I'm talking about apply to more than just Firefox.
The down side to having a second browser profile is that the porn browser will need to be
very careful
about closing his browsing session when s/he is done.
More Private Browsing Tips?
Firefox has a few more interesting tricks to make browsing private. Most of these tricks rely on Add-Ons, extra bits of code that modify how Firefox Operates. It is very important to understand that individual Firefox Profiles can each contain a different set of installed Add-Ons, so for a user to have a functional copy of that Add-On in two different profiles, it must be installed while each different profile is running.
One trick is to install the
ProfilePassword Add-On
, so that you can prevent unauthorized users from starting Firefox using your settings.
The only problem with the
ProfilePassword Add-On
is that it isn't hosted on
the main Firefox Add-Ons site
, which makes it somewhat suspect compared to the many other Add-Ons that are hosted there.
On the plus side, with a password protected profile, there's no need to go messing around with a different shortcut icon if you don't want to.
Another very useful Add-On for Firefox users is
Stealther
. As long as
Stealther
is running, Firefox will not track any user activity. No History, no disk cache (temporary files), no offers to save passwords or form information and no recently closed tabs.
With Stealther installed and running, no one ever need know about those late night visits to marmotsgonewild.com.
Stealther does not do anything about any other software that might be tracking your online activity, only the things Firefox itself normally keeps track of. Windows Desktop Search or Google Desktop, or any of a wide variety of Internet monitoring programs, not to mention spyware programs will still operate as normal.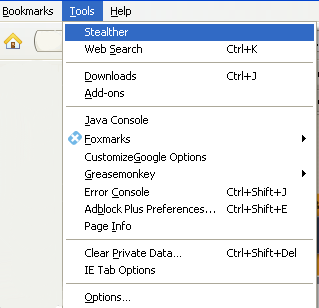 Turning Stealther on or off is simple and straightforward: In Firefox, click the Tools Menu, then choose Stealther. While Stealther is running a checkmark will appear to the left of its name in the Tools Menu.
Firefox also, has some Add-ons that are incredibly useful for porn surfing.
It's even a little bit of a joke among Firefox users
. Tools like
Linky
,
Magpie
,
DownloadHelper
and
DownthemAll
are all great for saving the things that you might want to keep.
Security and Web Browsing Essentials
If a site does not work in Firefox or Opera, it's best not to visit that site at all; it is probably trying to do something to your computer that you really do not want done. Porn sites are among the most technically sophisticated on the internet. They want their product to work with whatever you happen to be using. If you run across a site that indicates it is not compatible with your browser, don't use that web site. There's a whole internet full of naked people doing naughty things.
Web Browsers should be kept up to date. You will, from time to time, be told that a new version of Firefox is available. Generally speaking, these updates are done to fix known and in some cases critical security issues.
Those browsing porn should make at least the most basic efforts to set up advertisement blocking
. Advertising servers on mainstream sites like CNN.com and Computerworld.com have infected users with Malware. Do you think it's in any way
less
likely that adult sites would have the same sorts of problems?
All home computer users should have a Firewall Program that is installed and enabled. Windows XP and Vista both come with one that is perfectly acceptable, as does OS X. Honestly, porn browsing should have no impact on your computer's firewall, but I don't know everything that's out in the world, and it's better to be safe than sorry.
Windows Users should at the very least have up to date Antimalware software installed. I would suggest Spybot Search and Destroy, with its Immunizations in place, along with updated and enabled SpywareBlaster. Keeping these programs up to date is a bit of a hassle, but so is explaining to your spouse that something you downloaded turned all the icons on the desktop into animated dancing naked ladies.
Having worthwhile Antivirus software is also a good idea. I suggest
Avast!
,
Avira
,
NOD32
or
Kaspersky
Antivirus. Products made by Symantec/Norton, Microsoft or Mcafee probably do more harm than good as far as computer security goes. In general I am only recommending the Antivirus products being offered; I'm not a big fan of all-in-one Antivirus/Firewall/AntiMalware suites.

Here is my guide to using Avast Antivirus.
Don't download executable file types from adult web sites through a web browser, and view .zip and .pdf files as highly suspect. Just say no to unfamiliar Browser Plug-ins or Add-Ons. Do not install special software that promises access to Free Porn, and above all, stay away from "toys" like screen savers, wallpapers or instant message add-ons. These things are more likely than anything else on the internet to give you computer herpes.
Legitimate Browser Technologies
There are a number of packages that everyone will be asked to install sooner or later. These are legitimate programs from large companies that develop internet technologies.
These packages should be installed and kept as up to date as humanly possible.

Sun Microsystems Java
Adobe Flash
Adobe Shockwave
(largely supplanted by Flash)
A PDF reader of some sort [
Adobe
] [
Foxit
] [
Sumatra
]
Microsoft Silverlight
Java and Flash, once installed, will both regularly check for and ask to install updates. Since both Flash and Java can be used as Malware vectors, it's a good idea to do the updates as soon as its convenient to do so.
In the case of PDF Readers, I am firmly in the "anything but Acrobat"-camp. I usually install Foxit Reader instead. Acrobat is bloated, slow and not well behaved and, yes, it's a vector for Malware.
Microsoft Silverlight is a direct competitor to Adobe Flash for interactive content delivery. It's not very common, and where it is used, it's more likely to be for some huge corporate streaming video service. But it
is
a legitimate technology.
Spyware and viruses can be found in almost anything, including PDF, ZIP and RAR file types. Even movie files (.AVI, .WMV, .RA, .MOV, .MP4, .ASF and .FLV are most common) can force a computer to visit a compromised web site that would cause a drive by malware infection!
If you're using some version of Windows Media Player to view video content, be sure to turn off "Download Codecs Automatically" under Options inside that program.
It's better to not use Windows Media Player to watch video content at all.


Because porn IS available in a dizzying variety of file formats and codecs, it's a good idea to get an up-to-date set of them from a trusted source. I typically install the
K-Lite Mega Codec Pack from
free-codecs.net
every four months or so. This installs the software needed to watch just about any video file and greatly reduces the risk of my computer being infected by something through a video file; I
have
encountered computers where that has been a problem.
I have also (albeit rarely) had issues with the K-Lite Mega Codec pack causing problems with Windows Media Player upgrades. I've also had K-Lite installations fix video playback problems.
In addition to K-Lite Mega Codec Pack, I generally also install
QuickTime Alternative
so that I can enjoy Quicktime Content without putting Apple's god-awful Windows software on my computers. iTunes for Windows users have already had the full force of Apple's awfulness inflicted upon them, and do not need Quicktime Alternative. It's unusual to find a porn site using Quicktime, but it's not impossible. Better to have it, one way or the other, than to not have it at all.
There is some argument over whether or not K-Lite Mega Codec Pack or Quicktime Alternative are entirely legal in the USA. They should probably not be installed on computers owned by businesses.
Another option for comprehensive video playback is VLC
. I'm not a big fan of its user interface, but an up to date copy of VLC can play back pretty much any video from the internet.
Reputable Places on the Internet To Get a Porn Fix
Rule #1: Avoid anonymous sources.


If you are looking for porn, one of the worst choices you can make is to look for it in places where users are entirely anonymous. Limewire and torrent sites that don't need a regular user login both end up distributing a tremendous amount of malicious files through the promise of offering 'free' porn downloads. It is a very good idea to stick to web sites where there is either a username or a site owner to hold
accountable. Sites that let just anyone post a gallery also let just anyone post links to Malware. Stay away from those sorts of places.
Several sites offer user-submitted streaming video in a manner similar to Youtube. These sites are generally safer choices than going to miscellaneous porn sites and looking for random content. These sites are generally legitimate, though I would be wary of clicking on any advertisements. I would say these are the best bet for the largest number of porn browsers.
Examples:
YouPorn
TNAFlix
PornTube
RedTube
Xtube
Many of these sites offer free content as well as a members only area with longer, professionally produced content. Some sites are very lax in policing uploads. It's possible to find large chunks of premium porn content in amongst the free stuff.
Xtube has a particular niche in amateur, self-produced content. That may be a good or a bad thing.
Amateur Pictures? Again, your best bet is to look for user-submitted materials.

Voyeurweb.com
Projectvoyeur.com
Professional Materials depend highly on interests and tastes, but in general, sample sites exist in two categories: TGP sites (Thumb Gallery Posts), which are ad-driven and do lots of scummy redirects and other underhanded things, and picture blog sites, which are usually substantially less obnoxious and dangerous to browse.
Good places to start for pro galleries (well, if you like girls):
Nude.hu
Coolios Babelog
Boobdex
Kindgirls
johndx.com
Those sites might link to hardcore stuff, but none of them are really any more naughty than a typical Penthouse layout.
(The porn continuum: Cosmo = GQ = Maxim > Playboy = Perfect 10 > Penthouse > Hustler)
You really want to stay away from TGP sites like thehun.com or persiankitty.com as sites are linked fairly indiscriminately and can contain pretty much anything.
For Professional Video content (or for that matter anything else), the magic tool is called BitTorrent. The problem with using Bittorrent is that you have to share back what you've chosen to download, and it stays on your PC. On the other hand, if you have to see every picture ever of Quinne the Suicidegirl, all 17 "Where the Boys Aren't" movies, or all 180GB of FTVGirls.com content, Torrenting is the only way to go.
You'll need a Torrent Client Program, available from
utorrent.com
.
You'll also need free, invite-only membership on an appropriate torrent sites. The three big ones are
http://www.puretna.com
http://www.empornium.us
http://cheggit.net
(I am deliberately not linking to these)
Torrent programs need to run until your files have downloaded, and after for a while to ensure that you've shared as much back as you took the time to download.
Here's a beginner's guide.
The way to get pro content
legally
is, yes, to pay for it. There are membership sites. Some are more or less evil than others. Many of them are run by professional adult webmasters who claim to be operating a site on behalf of a, um, "performer."
Some sites like to play fun and games with recurring billing or use funky credit processing to cause headaches for people who want to cancel a membership. Some credit card companies will not authorize transactions for adult site memberships.
Ultimately, it's a murky situation, and except for the very biggest of "Brand Names" in smut, it's a recipe for issues down the road.
As a rule, I won't subscribe to services that do not offer fixed duration, non-recurring billing plans. I
have
subscribed to porn sites. I admit it. I've done that. I've never had a serious issue. But my bullshit detector is on and operating at full capacity when I'm even contemplating doing so.
Remember: It's
porn
. There's a whole internet full of it, and most of it can be found for free.
Finally, if all this stuff seems like too damned much work, there's always your local non-chain video store. Probably half their business comes from folks who just want to see what they want to see.
Don't have a local, non-chain video store? Still wanna rent porn?
Wantedlist.com
and
SugarDVD.com
both offer a Netflix-like Adult DVD rental service. Neither one will service every area of the USA, and I'm not sure what people do overseas, but it's certainly a valid and safe option to get smut. I've had dealings with both and found them to be acceptable, if somewhat slower than mainstream video-by-mail services like Netflix and Blockbuster.